March 7, 2017 by Guest Housekeeping
---
When a person is diagnosed with cancer, their whole focus changes in an instant. Suddenly, the highest priority is that person's health and treatment, and everything else fades into the background. Life is precious, and our natural reaction is to do all we can to preserve it.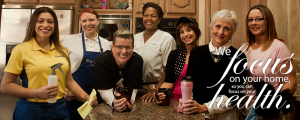 The problem is, those little background tasks still need to be done. "Real life" doesn't stop when a person gets sick. In particular, when a woman is diagnosed with cancer, it's common that many household duties fall by the wayside as she focuses on rest and recovery. The stress of not being able to complete the basic chores that keep life moving is something she doesn't need during this difficult time.
That's why Housekeeping Maid Easy partners with Cleaning for a Reason. Cleaning for a Reason is an organization that provides free housecleaning to women who are undergoing cancer treatment. Local cleaning services like ours pair with Cleaning for a Reason to provide these services. There are over 1,200 participating maid services across the country!
Cleaning for a Reason was founded by Debbie Sardone, who herself was the owner of a cleaning service. When a prospective client had to decline her services due to the costs of cancer treatment, Debbie vowed that no woman who was undergoing cancer treatments would be turned away. Out of this grew Cleaning for a Reason!
Our own founder Monkia Christensen watcher her own mother battle breast cancer, and knows firsthand the harsh reality of going through cancer treatments. That's why being a Cleaning for a Reason provider is so important to her. Through the years, Housekeeping Maid Easy has been able to serve over two dozen women with cancer.
To find out more about how Cleaning for a Reason can help you or someone in your family, you can learn more on their website. You can also make a donation to this excellent organization here.