March 1, 2017 by Guest Housekeeping
---
Spring is coming, and that means there are all kinds of fun activities happening in Indianapolis. Here are a few March events we think you won't want to miss: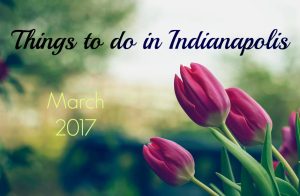 Pulitzer prize winning author Junot Diaz will be delivering the 2017 McFadden Memorial Lecture on March 2nd at Central Library in downtown Indianapolis. This event is free and limited free parking is available. Doors open at 6pm.
Take your family for a fun night out at The Children's Museum of Indianapolis. You can enjoy free admission on March 2nd from 4-8 p.m. Be sure to check out the new exhibit, Circus – Starring You!
This month gives you plenty of chances to take in an Indy Fuel hockey game! There are home games this month on March 3, 10, 11, 12, 18, and 19. Don't miss the excitement of ECHL hockey in Indianapolis.
The NFL Combine returns to Indianapolis the first week of March! If you register for the free Fan Mobile Pass, your family gains access to all kinds of fun and free events. The combine happens March 2-5; register for your Fan Mobile Pass and select the dates and times that work best for you.
Basketball lovers can enjoy the 2017 Big 10 Women's Basketball Conference Tournament, coming to Banker's Life Fieldhouse March 1-5. Come out and cheer on your favorite team or alma matter!
Are you a dog lover? The newest exhibit at the Eiteljorg Museum, Dogs: Faithful and True opens on March 4th. This exhibit offers lots of beautiful art and activities for visitors of all ages.
On March 11th, you can enjoy a hilarious night out and help support a great cause. Jay Leno will be performing at the Laughing Matters fundraiser for the Cancer Support Community. Funds raised from this show at Hilbert Circle Theatre will support programs for Central Indiana families battling cancer.
The butterflies are returning to the Indianapolis Zoo! The Butterfly Kaleidoscope in the Hilbert Conservatory opens March 17th. Make sure to take time to observe these beautiful and delicate creatures.
March is also the perfect time to take in a show! Joseph and the Amazing Technicolor Dreamcoat is on stage at Beef and Boards through March 26th. Enjoy a delicious meal and a performance from some of the most talented actors in the city.
At Housekeeping Maid Easy, we take care of keeping your home in order, so you can get out and enjoy all that Indianapolis has to offer. Contact us today and create more room in your calendar for what you love.