February 3, 2021 by admin
---
If there's one thing you want to know when you're in your own home, it's that it's clean. Not just a normal clean but a deep clean that can allow you to relax and feel comfortable after a long day. 
Unfortunately, during COVID-19, getting to this point can feel impossible. With articles and videos everywhere talking about germs in your home and how easy illness spreads, relaxing in your own home is a tall order. 
The good news is with a proper understanding of cleaning solutions and where germs are commonly found, you can make your home a safe haven for yourself and your family. 
Cleaning vs. Disinfecting
Before you begin your deep cleaning, you need to understand the difference between cleaning and disinfecting. Cleaning refers to regular actions such as vacuuming, wiping down countertops with wet cloths, and mopping the floors. 
Disinfecting is done after cleaning. It should be the last step in your cleaning process in order to kill the most germs possible and avoid allowing dirt to interfere with the germ-killing process. If you try to disinfect before or while you clean, you'll be lessening the power of your disinfectants and therefore wasting your own time without getting the real clean that you want.
Your Disinfecting Toolbox
When it comes to sanitizing your home, you should always have a group of cleaning products that are EPA-approved and ready to get the job done. If you clean with products that aren't powerful or don't kill certain germs, then you won't get the clean that you're looking for. 
Some cleaning products you can use throughout your home include:
Products with 65% to 90% alcohol in them

Wipes with a label that says they kill 99.9% of germs

Alcohol/Rubbing alcohol wipes (be careful — they're flammable!)

Hydrogen peroxide (don't mix it with vinegar!)

Sodium hypochlorite (only mix it with water!)
You should also have some tools and equipment that can help make the cleaning and disinfection easier. Some of these items include:
Shoe covers

Gloves

Masks

Microfiber cloths

Sponges
Understanding Your High-Touch Points
High-touch surface areas are the areas within your home that you touch the most. They're also the ones that need special attention when sanitizing your house. It's important to know where they all are so you can make a checklist of everything that will need cleaned and then wiped down. Some of the most common high-touch points include: 
Doorknobs

Buttons

Remotes

Electronics

Appliances

Light Switches

Windows

All surfaces in the bathroom

Tables

Drawers and their handles
Disinfecting the Kitchen
Your kitchen is where everyone in the house congregates multiple times a day. Cleaning and disinfecting your kitchen will not only help everything look better, but it will protect your family from foodborne illness and viruses such as COVID-19. 
You'll want to start out by washing every surface and floor with warm, soapy water. Now is the time to scrub everything down and get all stains and residues from the surfaces. Make sure you're cleaning all of your appliances (both inside and out), such as your refrigerator, microwave, and oven. 
After you clean, you can now disinfect with your choice of disinfecting solutions. Make sure it's always visibly wet after you wipe everything down so you know there's enough solution to do the work.
Disinfecting the Bedrooms and Living Areas
When it comes to cleaning your bedroom, your main focus will be doing all of the laundry and cleaning the floors. Many people change into new bedtime clothes and shower before they go into their bedrooms to lessen the presence of germs and bacteria. 
Additionally, you should consider deep cleaning your carpets. You can usually rent a machine from a nearby hardware store that will deep-water clean your carpets. 
You'll also want to wash your bedding and other linen in the hottest water possible to kill the most germs. Make sure you dry all items completely before putting them back on the beds.
For your living area, you'll want to take the same steps; just turn your focus to cleaning surfaces and the upholstery. A good disinfectant spray that works on fabric will also be helpful. 
Disinfecting the Bathrooms
Everyone knows how germy your bathroom can become, and thinking about that when you're sanitizing your house can gross you out. From the countertops to the faucets to the toilet, there germs that reside in even the smallest cracks of the bathroom. 
Before you clean, make sure you remove any items from the countertops, walls, and shelves in the shower. This will allow you to safely clean your bathroom with hard disinfectant solutions and not ruin any products. 
Make sure you clean all surfaces with warm water and soap. Then go in with your disinfectants. Don't forget to scrub down the inside and outside of the toilet. It also wouldn't hurt to clean your drains out with a drain cleaning solution to loosen up any gunk within them.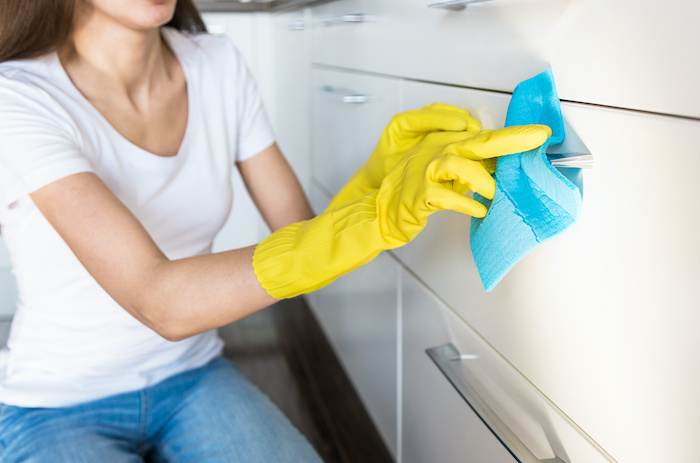 The Professional Home Sanitizing Service of Housekeeping Maid Easy
Now putting together a guide for yourself so you can clean your own home is fine, but do you really have the time to do it? With such busy schedules, sanitizing your house could take hours that you probably don't have available. 
That's where the experienced professional at Housekeeping Maid Easy can come in to help with our expert house cleaning services. With only the best people on our cleaning team, we take care of everything in your house cleaning process for you, from organizing your items to cleaning out your oven. 
Our customers love working with us not only because our services are affordable but also because each plan is customized to the client. No one's house is the same, so we're certainly not going to clean them the same way. 
We can work with you around your schedule to provide you a cleaning service as frequently as you want. To stay on top of things and make sure germs and bacteria stay away, we recommend a weekly service, but at the end of the day, everything will always be up to you. 
Work with Housekeeping Maid Easy
If you're looking for a house cleaning service that will not only clean but disinfect your home, reach out to Housekeeping Maid Easy today through our request a quote page. We can't wait to meet you and make your home a relaxing and comfortable palace for everyone in your family.