September 30, 2021 by admin
---
Are you on the hunt for dust in your home? Chances are it's hiding in plain sight!
Dust particles can cause all kinds of health issues, especially for those with allergies. Dust particles that are small enough to be inhaled may cause eye irritation, sneezing, coughing, hay fever, and even asthma attacks. Plus dust leaves your home looking tired and dirty rather than sparkling and tidy. A few dust bunnies here and there might seem harmless, but in addition to skin cells, dust contains all kinds of unsavory things, including pollen, pet dander, clothing fiber, mites, and even mite droppings. 
While you may have a routine dusting pattern to rid your home of visible dust, dirt, and debris, chances are it's still lurking in corners, accumulating under your sofa, and hiding throughout your house. 
If you're hoping to breathe a little easier, take a look at the list we've compiled of the places you should dust in your home, including the can't-miss spots as well as a few you might have forgotten.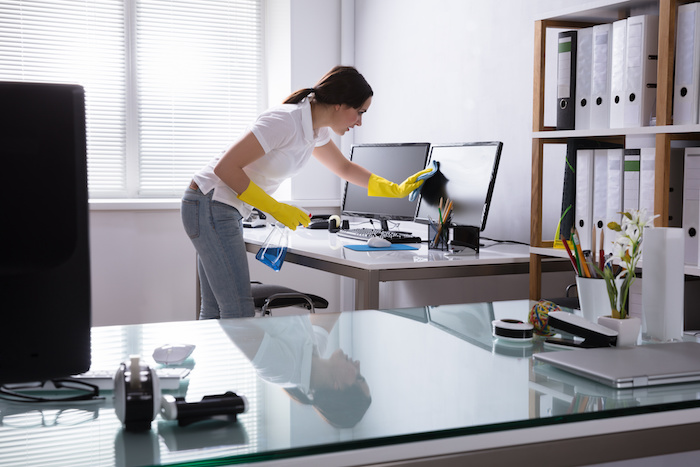 Your Mattress, Bedding, and Upholstered Furniture
We may not like to think about it, but dust mites feed on dead skin cells. They also love dark, warm places, which makes beds and mattresses the perfect spots for dust mites (and dust) to accumulate. You can keep dust mites at bay by vacuuming your mattress on both sides, and the same goes for your couch and all other furniture. (and don't forget to vacuum underneath, too!) It's also a good idea to wash your bedding—including pillows and throw blankets—in warm or hot water. 
If you deal with severe allergies, you may want to vacuum your mattress every time you change your sheets.
You can get an even deeper clean by sprinkling a box of baking soda over your bare mattress, rubbing it into the bed, then letting the baking soda sit for an hour to absorb oils, mites, and anything else you don't want in your mattress. Then, vacuum your mattress thoroughly and slowly with an upholstery attachment. Don't forget the pet beds too!
In Corners and at Your Baseboards
It's easy to forget to dust baseboards when there are so many other surfaces to clean, but this is one spot where dust accumulates quickly. This is because static electricity draws dust to your baseboards. 
To remove the dust—and help keep it from coming back—vacuum your baseboards with a soft brush attachment, then wipe them down with a fresh dryer sheet. Not only will the dryer sheet leave your room smelling like a newly-tumbled load of laundry, but it will also coat the baseboard and help repel dust.
Light Fixtures
Dust can gather in lampshades and on lights, which doesn't only impact how your light fixtures look, but may also affect how brightly they shine! 
To clean and dust your light fixtures, turn them off and let them cool completely. Then, use a dryer sheet or a microfiber cloth to capture dust on your glass shades and light bulbs. Vacuum fabric lampshades using a soft brush attachment to remove stubborn dust that clings to the fabric's fibers. 
Window Treatments
Especially if you love to open your windows on a clear, temperate day, your curtains and blinds might be covered in dust!
Vacuum window treatments with a brush attachment, and use an old sock as a duster to tackle your blinds by placing it on your hand, spritzing it with a light mist of water, and running over each slat to wipe away dust. 
Some curtains are machine washable and can get washed right in your laundry room, but be sure to read the care instructions and use the warmest water you can for that kind of fabric. 
Walls and Ledges
While you may not think that vertical walls can harbor dust, they are a perfect spot for dust to collect. Dust can cling to all kinds of surfaces, and can even foster mold growth in humid environments like bathrooms and near showers, so they need your attention. Wipe down your walls (and ledges) with a dust mop by starting at the top and working your way down. 
Get Help from the Pros
At Housekeeping Maid Easy, we've seen first-hand just how hard it can be to keep up with dust. Our professional house cleaning services in Indianapolis and the north suburbs are designed to make your life easier and your home cleaner so you don't have to worry about things like dust and dirt. A weekly or monthly house cleaning can make all the difference!
Choose a weekly cleaning service or opt for monthly cleaning services to keep dust under control, or select the services you need to ensure your house always looks exactly the way you want it to. Gain peace of mind and get more time to spend doing the things you love (and see less dust!) by taking advantage of our expert, COVID-safe house cleaning service. 
Let us handle the dusting! Take a look at our client testimonials, then request a quote today!