February 25, 2022 by admin
---
Many Americans now have a designated home office space. While some may have a dedicated room, others simply have a desk in the bedroom or a space at the kitchen table. 
Does it feel overwhelming to create a designated workspace in your home and keep it organized? Do you find it difficult to keep your home life from creeping into your workspace?
Here are some easy home office ideas that can help you with home office organization. Below we've listed a few tips for creating a clean and organized home office setup.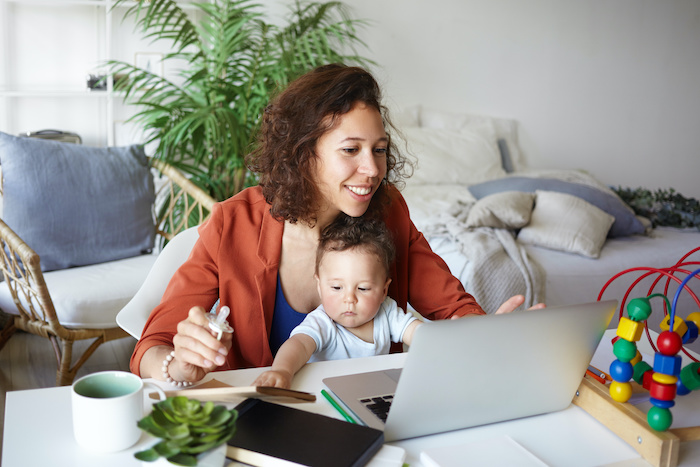 Why
Home Office Organization
is Important
In a world where many people end up doing a fair amount of their work from home, it's important to have a dedicated space to separate your home life from work–you need a work-friendly space in your own home. 
Having a separate home office is a great way to give yourself a mental reminder of when you are working and when you need to stop working. Unlike sitting on the couch for hours without realizing how much time you have spent working, a dedicated space helps you manage your time well and creates a needed physical and mental separation between home and work.
Keeping a clean home office also helps you maintain a high level of productivity. Instead of searching through papers to find what you need or throwing your laptop on top of your personal bills, keep things separate so that you can focus on work when you enter your designated home office space.
Home Office Setup Ideas
Here are some small home office ideas to get you started and help you maintain that separate work environment:
Look for quiet

: Find one of the quietest places in your home to set up a small desk and chair. If possible, choose a location where you can close a door to signal to anyone else in your home that you shouldn't be disturbed when the door is closed.

What are your needs

: Does your type of work require multiple computer screens, or can you just use a laptop with a comfortable chair? Do you have papers that you need to be able to file? What type of lighting do you need if your job requires a fair amount of video conferencing? Consider what larger furniture items (like a filing cabinet) will help you stay organized as well as smaller items like trays for papers or pencil holders to keep your desk neat and tidy.

Add in some inspiration

: What keeps you going at work? Maybe hang a picture from a favorite vacation spot or photos of your family next to your computer screen? Is there a certain color that helps you stay calm and focused? What about a favorite quote in a picture frame to help you remember why you love your work? Pick two or three items as visuals that can help you remain motivated and focused on particularly hard days.

Organize your technology

: Think through what you absolutely need to work from home, and get rid of anything that just adds clutter to your workspace. Consider the best spot for your computer–make sure sunlight isn't reflecting off of your screen all day. Angle your screens, keyboards, and chairs for maximum comfort throughout your workday.

Add in organization that works for you

: If you are an architect who uses pencils every day, make sure that you find a pencil organizer that holds your supplies and looks nice–not just an old coffee mug. Consider some baskets or other bins to organize odds and ends to keep your home office space looking clean and picked up. Many people also need a simple desktop filing system to keep paperwork organized. Choose items with the same

design aesthetic

to help your space feel clean and organized.
Professional House Cleaning
for Your
Home Office
After you have your home office set up, you need to not only keep it organized, but you also need to keep it clean. Keyboards, desks, and shelving need to be wiped down and dusted regularly. Cleaning your office will also be an easy way to declutter your space. In order to wipe down your desk, you can go through your papers and items that might not need to be on your desk, clearing it off for a deep cleaning to get rid of germs and dust.
WE are a house cleaning service that can take care of all of your home office cleaning needs. We offer weekly cleaning services, one-time house-cleaning services, new construction house cleaning, monthly house cleaning, or we can cater a plan for your specific needs–our professional cleaners offer a wide range of services.
Our client testimonials show that we're committed to doing a great job for you, "Very thorough and was one of the best cleaning services I've had." Our service area covers most cities around Indianapolis. We are a local company owned and operated by members of your community. Because we are locally owned our prices are more affordable and we can be more flexible when it comes to meeting your specialized needs.
If you need support in keeping your space organized and clean, we're here to help. Book your services today!