January 25, 2022 by admin
---
Wood furniture usually requires very little upkeep. It is highly durable and typically only needs occasional dusting. With the right products, your wood furniture can shine, maintaining its beauty for years to come. There are times though, with extended use, that fingerprints, film, or grime can build up on wood furniture. That's when you need to know the best methods for how to clean dirty wood furniture.
Cleaning wood furniture may seem scarier than it actually is. With a few basic principles, you can keep the finish on your wood furniture beautiful for years to come. Following these basic steps will keep you from unknowingly harming your furniture while you are trying to bring it back to life.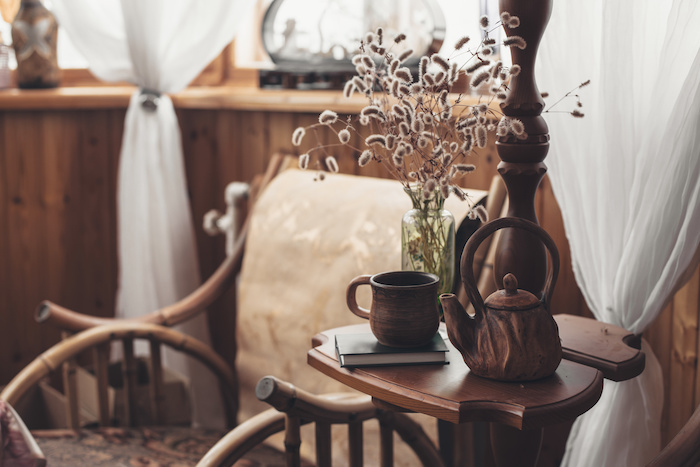 How to Clean Wood Furniture
–Some Different Options
The first thing you need to figure out is what type of finish your wood furniture has. If you already know what finish is on your furniture (oil-based sealant, paint, acrylic stain, etc.), then follow the instructions on how to clean based on the finish. 
If you don't know what finish you have on your wood furniture, the best approach is to start with the mildest cleaner and work your way up to stronger cleaning solutions if you need to. There may even be times you need to bring your furniture to a professional if you can't seem to get the furniture back to its original condition. 
Try this First: Dust and then Dish Soap
Your first step will always be to dust the furniture thoroughly. Then get a cotton ball and dip it into a mixture of a small amount of water and dish soap. Take this and wipe it on a hidden area to make sure that it is safe to use on your wood–you don't want it to leave a mark. If something as mild as dish soap seems to clean your furniture to your liking, then go ahead and use it for the whole piece of furniture. Just make sure not to let too much moisture build-up on the furniture as this can create stains. 
If it seems that the dish soap is not working, move on to another type of cleaner.
How Do I Use Mineral Spirits?
Using a clean, dry cloth, dampen it slightly with mineral spirits. Do the same thing as you did with the dish soap–try out the mineral spirits in an unnoticeable place in case it does leave a spot on your furniture. You want to make sure that the mineral spirits are going to just take off the dirt, not the entire finish on your furniture.
Mineral spirits usually work well and can take off grime and build-up that has developed over the years. 
As you are wiping the mineral spirits onto your furniture, make sure you wipe in the direction of the grain. It should be pretty noticeable to see dirt and grime coming off.
After you are finished with the mineral spirits, take another clean, dry cloth and wipe down the furniture one last time to get rid of any leftover residue or dampness. 
To really make your furniture shine, you can buff and polish it with wax. The preferred towel for polishing is a cheesecloth. Again, the best rule of thumb when wiping wood is to follow the direction of the wood grain as you buff.
Is Vinegar a Good Cleaning Option?
Can you use vinegar on wood furniture? You can! But, it has higher acidity, so you'll need to dilute the vinegar to use it to clean your furniture. Again, as with all the other solutions, use a soft cloth and test it in a small, unseen area first. 
Cleaning Old Wood Furniture
Old or antique wood furniture needs a gentle approach. You need to take care with cleaning older furniture. Because the wood is older, it is much more brittle, and water can cause stains more easily. You'll want to use the most gentle solution of dish soap and water to try to clean antique wood furniture. It becomes even more important to pay extra attention to how much moisture you allow to sit on the wood. You need to wipe away moisture fairly quickly when you are cleaning old furniture to keep your piece from getting any water stains while you are trying to clean it.
Professional House Cleaning Services
Take Care of Your Home and Furniture
At Housekeeping Maid Easy, we are a house cleaning service that can take care of all of your cleaning needs. With our weekly cleaning service, we make sure to gently clean your home, including your wood furniture, regularly. Whether you need monthly house cleaning, weekly house cleaning, or another type of cleaning service, our professional cleaners offer a wide range of services:
Monthly Cleaning Services

Residential Cleaning Services

One Time/Deep Cleaning

Airbnb

Cleaning Service

Event Cleaning Services

Errand Services
Our client testimonials show that we're committed to doing a great job for you, "Outstanding customer service. Fair pricing. Would recommend!" We take great pride in our employees–each house cleaner has a background check and is bonded and insured. Our service area covers most cities around Indianapolis. We are a local company owned and operated by members of your community. Because we are locally owned our prices are more affordable and we are able to be more flexible when it comes to meeting your specialized needs.
If you need more support in any of the areas listed above, we're here to help. Book your services today!