---
It's no wonder that the windows of our home get so dirty. Not only do they withstand every kind of weather that comes our way, but they are also constantly exposed to environmental and human hazards. And even if you can't see it, your windows do slowly accumulate with pollen, dirt, dust, and grime every single day. When you combine all of this together, you get something called window haze. 
This haze leaves your windows cloudy and can even affect the opacity, which means no more beautiful views of the backyard garden every morning. Knowing how to clean windows properly and efficiently can be a tough code to crack. Each window is different, and if not cleaned correctly, can be affected long term, meaning you'll be losing out on a huge investment. 
Luckily the professional cleaners at Housekeeping Maid Easy have you covered with advice on how to make window cleaning a breeze.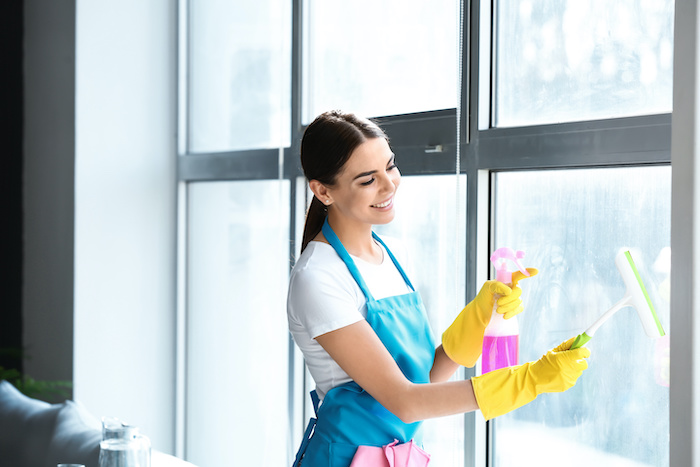 What is the best time for
window cleaning
?
The best time to clean your windows is on a cool and cloudy day. This makes sure that whatever cleaning solution you use doesn't dry quickly on your window and leave streaks behind. 
You can choose to clean your windows whenever you want. However, in order to maximize the cleanliness of your home and maintain your windows to last longer, you'll want to clean them once a month or every two months. 
Depending on where you live, like in heavily wooded areas or places that experience heavy rain and snow, you may need to clean them more.
What is the best window cleaning solution?
There are a variety of window cleaning solutions on the market to choose from. If you don't care which brand or what the smell is, just make sure to stay away from cleaners that are ammonia or alcohol-based, like we do in our house cleaning services. 
This is because these solutions tend to make your window cleaner, but in reality, they leave behind residue that builds up over time and attracts dust and dirt. 
How to make window washing solution
If you don't like any of the solution options that you can get in the store — or maybe you prefer to make solutions yourself — then you'll be delighted to know it's fairly easy to make your own window washing solution at home. You'll need:
2 cups of water

½ cup of white or cider vinegar

¼ cup of rubbing alcohol (70% concentration)
You can combine these ingredients into a spray bottle for usage. Just make sure to label the bottle for future use.
How to clean inside windows
How you clean the inside of your windows will be different than how you clean the outside of your windows. For cleaning the inside of your windows, you'll need a microfiber cloth and your choice of cleaning solution. You can also choose to use a window cleaning squeegee with a clean rubber blade. 
Before you start cleaning, make sure to wipe down the window sill all the way around and the edge. This is to wipe off any dirt or dust, so it doesn't streak onto the windows later in the process. You can then use a razor blade to get off any hard material stuck on the surface, such as paint or gel. 
From there, you'll want to heavily French your window in solution. Don't hold back on this part; it won't hurt the window. Then use your cloth to wipe the window in circular motions. 
You can also drench the window in liquid and then use your squeegee to wipe from one side to the other, wiping the blade off in between strokes. 
How to remove window blinds for cleaning
You don't really need to remove your window blinds to clean them. In fact, it may be easier for you to clean the blinds first, then clean your window. 
Try taking your window cleaning solution and microfiber cloth and wiping down your blinds individually to make sure you cover every area. 
Then push your blinds to the top and clean your window. That way, you don't have to do extra work on top of cleaning the windows. 
How to clean outside windows
Cleaning the outside of your windows can usually be fairly simple, as they're already prepped for environmental effects. In fact, some window cleaning solutions come in bottles that just attach to your water hose and can be sprayed, left for a few minutes, and then rinsed off, so try to get one of those. 
You can always hire window cleaning experts
In reality, many people don't have the time or energy to clean their windows the way they need or want them to be cleaned. And that's okay! That's where the weekly house cleaning service or monthly cleaning service of Housekeeping Maid Easy can help. 
Our trained staff understand the ins and outs of window cleaning and can handle that cleaning task for you quickly and efficiently. With our new and improved COVID-19 policy, you won't have to worry about amateurs in your home who don't know what they're doing and don't care about their clients' well-being. 
We're also very upfront about the cost of our services, so if you're looking for transparency and honesty, Housekeeping Maid Easy is the professional house cleaning company to partner with. You get to decide what happens with your cleaning plan and all costs associated with it, so don't worry about going outside your budget. 
Additionally, we have a wide service area that serves various clients daily, who can all tell you how much they enjoy working with us. Reach out and request your quote today for your expert window cleaning service.